Resize Layers in Groups & Symbols
"You can now define how layers within groups and Symbols should move/resize when the user resizes a group or symbol."
This is what excited me the most about the update. I have been wanting this for a long time.
Not only can you change the label of a symbol dynamically. You can now smartly resize symbols and groups. This will save so much time in day to day design activities.
Sketch Cloud (beta)
"Introducing the first version of Sketch Cloud (Beta) — a free service that lets you upload Sketch documents and share them with the world."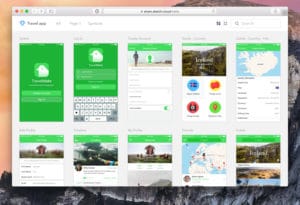 This is pretty great. Share your mockups via Sketch. Will show your screens and symbols that make up a project. I can see this growing with features in the future. Currently the service is in beta.
A few more of note:
Adds the ability to right-click any layer to replace it with an instance of an existing Symbol
Adds the ability to quickly switch between Artboards using the fn+left/right arrow keys
Image fills on layers can now be set to "Fit"
Text pasted into a Sketch text layer, or on the Canvas, is now always stripped of whatever styling it contained
The Hex field now has key focus when opening the color picker
When exporting Artboards to PDF, Sketch now exports Artboards in a left-to-right Canvas order. Check the Preferences to adjust this