I've had my Apple email address since it was Dot Mac. Then it became Mobile Me, and now it is called iCloud.
That's @mac.com @me.com @icloud.com — so many different aliases, domains, etc. It ends up being a history of junk emails.
On top of that, I'm tied to my Apple email address because it's now your AppleID.
As that email grows out of control, it becomes harder to find relevant emails. Not to mention notifications from Apple themselves.
Buy something online? You're now on a newsletter list.
Unsubscribe from a newsletter? Ha! That rarely works.
Have an email address long enough and it will be sold to various "marketing lists".
Sanebox to the Rescue
It's super simple. Sanebox scans your emails, then moves the miscellaneous ( sales emails, confirmations, etc ) from the Inbox to a folder called "SaneLater".
Then it will email you a digest of your emails so that you can glance at them once a day. Anything important is left in your Inbox per usual.
It really is that smart.


My Results
The screenshot below was what I received: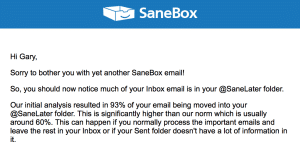 I've been deleting nearly 200 emails a day. 93% of it being useless. Setting up email rules for each and every newsletter did not work for iCloud.
Discount
You can get $5 off by using my invite. Winning.